AI Marketing refers to the application of artificial intelligence to mainstream marketing practices through machine learning and marketing algorithms. Integration of an AI Marketing strategy brings about a new dimension of promoting goods and services that is dynamic and requires less human intervention. This new era of marketing changes the rules of the game bringing new marketing strategies that yield higher lead conversion rates at a much lower cost.
The influence of AI technology has affected areas within marketing that include customer segmentation, scoring of leads, content generation amongst other areas. AI Marketing is proving to be extremely beneficial for businesses, whatever their size. It alleviates the burden of manual intervention by automating daily tasks whilst improving both accuracy and efficiency of marketing campaigns.
In the next section, we dive into the forms of AI Marketing tools that are going mainstream and also analyze the concepts with some use cases. Moreover, we shall delve into the different types of AI Marketing solutions that are available on the market.
Cases For The Application of Artificial Intelligence In Marketing
Analyses of the data: Gathering and evaluating large marketing data sets from various campaigns and programs that are otherwise carried out manually.
Natural Language Processing (NLP): Creating a human-like language for content creation, customer service robots, customization of experience and more.
Media purchase: Predict the most effective advertising and media placements for a business in order to reach the target audience and maximize the ROI of the marketing strategy.
Automated decision-making: AI marketing tools help businesses decide which marketing intelligence or business growth strategy they should use based on past data or external data entry.
Content generation: Writing both short and long content for a marketing strategy, such as video captions, email subject lines, web text, blogs, and more.
Real-time personalization: Modifying the customer experience with marketing assets such as web pages, social posts or emails by adapting them to the customer's past preferences to encourage a certain action (click on a link, subscribe to something or buy a product).
Leveraging AI-generated content to boost brand awareness: Utilizing AI tools like ChatGPT and Midjourney, businesses can create compelling, attention-grabbing content tailored to their target audience. These AI-powered solutions generate catchy headlines, engaging copy, and creative content that effectively capture consumer interest, ultimately enhancing brand visibility and awareness across various platforms.
AI Marketing For Small Businesses
Small companies have a glaring disadvantage in using marketing. This occurs due to budget, staff, and time constraints that are common for this business group. AI Marketing is becoming the solution to these limitations that impede organic business growth. AI powered marketing can make businesses more efficient and strategic in applying more personalized digital marketing campaigns.
AI Marketing enables small companies to automate someone routine tasks, such as content generation or optimization of the page of the reviews. Furthermore, AI Marketing can help smaller businesses manage lead flow and build a personalized and effective customer journey.
From a survey conducted online by Unbounce it transpires that over half of the small businesses have identified limited budgets allocated for marketing campaigns as a deterrent to the success of their marketing expenditure. Due to these limitations, it is very common for smaller businesses to employ marketing generalists that lack the technical competencies (e.g. techniques for marketing performance and conversion rate optimisation) required for marketing to be strategically relevant to the business. That is where the role of artificial intelligence on marketing can close such skills gaps saving businesses time and money.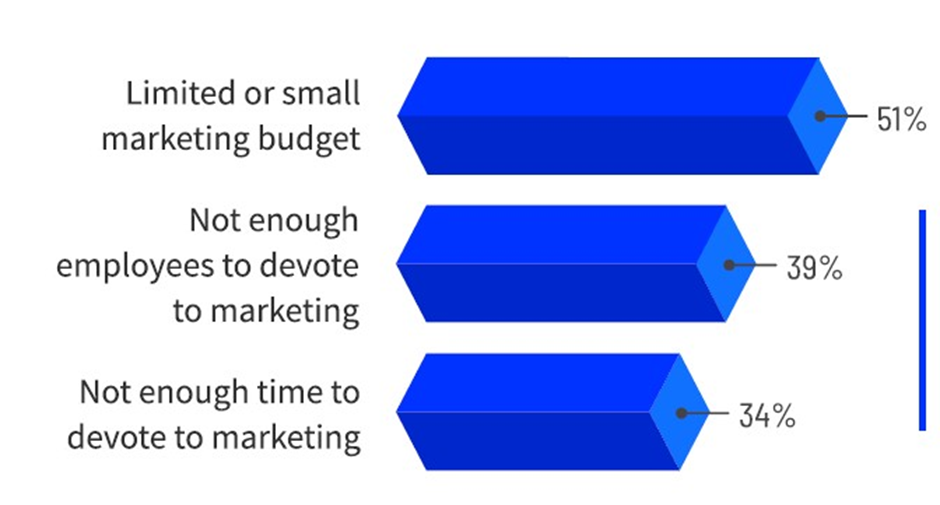 Artificial intelligence in marketing is no longer an exclusive (and expensive) solution for companies with high budgets and data science teams. Today, AI-powered tools like copy generators and design assistants are much more accessible and affordable, making them the solutions of choice for digital marketing efforts applied by small businesses.
We have handpicked the top 10 free AI tools in this article to get you started.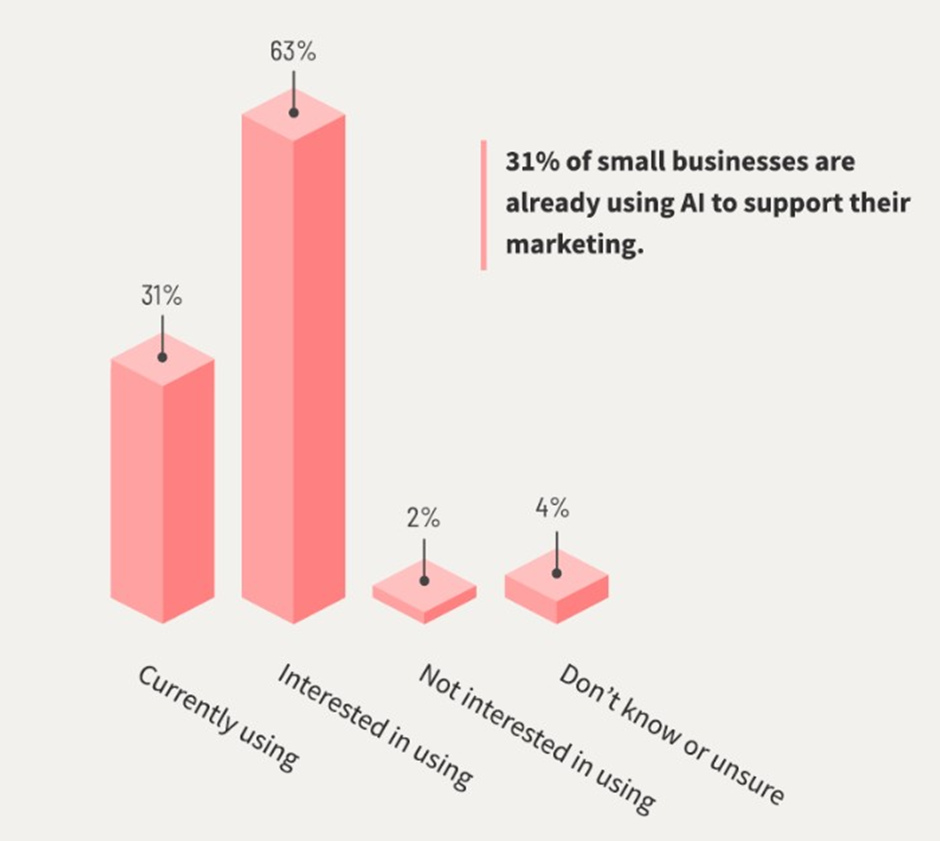 Types Of AI Marketing Tools Used By Small Businesses
SEO, pay-per-click, landing pages, email campaigns – small businesses today have a wide choice of AI technologies and algorithms that they can add to their stack. We are still early stages, but here are three crucial ways how AI is leveling the playing field.
Copywriting: One of the most exciting ways used by small businesses to instantly create a new copy for landing pages, emails, ads, and other assets through AI.
Create campaigns: AI helps companies run an automated digital marketing campaign that is very expensive to render manually. A workflow based on user actions allows for the planning and execution of a complete advertising campaign that makes more conversions with less marketing expenses spent on technical staff.
Optimization: A/B testing of your landing pages takes time and above all, expertise.
Creating Long from Content: Content is King for ranking and AI tools such as Content at Scale can write a full blog from as little as a single input such as a topic or keyword.
Examples :
Leadpages uses a powerful artificial intelligence tool – Leadmeter to guide you in creating an effective conversion landing page based on previous experiences gathered with leadpages machine learning.
Unbounce uses AI using Smart Traffic to guide leads through the best experiences to get the end result. Finally, this tool makes more sales and subscriptions.
[Both brands offer recurring subscription with cashback if you are not satisfied with their service, find more details in this comparison article]
The Economies Of Scale Of AI Marketing For Small Companies
Small businesses that invest in AI tools to support their marketing efforts spend less overall. Thirty two percent of companies investing in AI marketing tools spend less than $1,000 per year. By comparison, only 12% of those who don't use AI spend less than $1,000 on their annual marketing.
Considering that 92% of companies confirm that they have reduced costs thanks to artificial intelligence tools, this can be translated into an indirect confirmation that the same companies spend less in general on their digital marketing thanks to AI adoption.
Challenges Of AI Marketing
Despite the technological advances in marketing emanating from artificial intelligence, there are areas for improvement that will occur with the growing use of AI marketing tools. At this point, what is important is to pay attention to how to best integrate AI into marketing operations.
Training Time And Data Quality
The algorithmic tools of AI marketing do not automatically know what set of actions to take to achieve the marketing objectives. Therefore, they require time and training to learn organizational objectives, customer preferences, historical trends, understand the general context and establish skills. This learning process also requires customer data quality guarantees. If your AI marketing tools aren't trained with high-quality, timely, and representative data, you'll end up with inaccurate data decisions that don't truly reflect consumer desires, making your new AI marketing tool. unnecessary artificial intelligence.
Privacy
Both consumers and regulators are cracking down on how organizations use their data. Digital marketing teams need to ensure they use consumer data ethically and compliant with standards such as the GDPR when implementing an AI-based marketing strategy, otherwise they risk heavy penalties and reputational damage. Unless your AI marketing tools are specifically programmed to comply with specific legal guidelines, they may go beyond what is considered acceptable in terms of using consumer data for marketing personalization.
Getting The Buy-In
It can be difficult for digital marketing teams to demonstrate and communicate the value of AI marketing investments to business stakeholders. While KPIs like ROI and efficiency are easily quantifiable, showing how AI marketing has improved customer experience or brand reputation may be less obvious. With this in mind, digital marketing teams need to make sure they have the right measurement tools to attribute these qualitative gains to AI investments.
Best Distribution Practices
As AI-powered marketing is a newer tool in the digital marketing toolbox, definitive best practices have not yet been established to guide initial marketing teams' implementations. Every digital marketing team should think about the long-term effects of implementing an AI-based marketing strategy, not just the short-term benefits they could reap.
Adapting To An Evolving Marketing Landscape
With the emergence of AI-based marketing, there comes a disruption in everyday marketing operations. Marketers need to assess which jobs will be replaced and which jobs will be created. One study in particular shows that nearly 6 out of 10 jobs from current marketing specialists and analysts will be replaced with marketing technologies.
Frequently Asked Questions About AI Marketing
How Does Artificial Intelligence Affect Marketing?
Tools that use AI are designed to make customer experiences smoother and more efficient – for example, by automating chatbot conversations or analyzing economic trends to aid in decision making. Usually, artificial intelligence is used as an enhancement for traditional marketing activities instead of being a substitute.
Is Artificial Intelligence The Future Of Marketing?
Implementing AI in marketing can automate a significant number of processes, such as content personalization, customer journey mapping, and audience segmentation. Even so, much of marketing requires connecting with people on a human level, something that AI tools alone can't handle.
Will Artificial Intelligence Have An Impact On Marketing Jobs?
There are many panic theories that artificial intelligence will replace people's work 1:1. While AI tools can be a great addition to your marketing technology stack, they lack emotional intelligence or true natural language processing for communication and therefore cannot ultimately take total control of your marketing in the short to medium term. Artificial intelligence can help change your company and there is room for automation but the necessity for human intervention remains intact.