Content marketing strategies are crucial for small-medium businesses looking to increase brand awareness and generate leads. As the digital landscape continues to evolve, it is essential for marketers to stay up-to-date with the latest generative AI marketing tools and techniques that can help them create compelling content that resonates with their target audience.
In this blog post, we explore Content at Scale, including their most recent advancements in the content marketing technology integrating the power of AI writing with AI powered SEO tools.
This is far from an overview. Let's delve into the detail!
Table Of Contents
What is Keyword Research?
A Critical Marketing Exercise
Before exploring the features of Content at scale or any other AI writing tool, it is critical for our readers to understand that successful ranking of content writing on search engines is only attainable through proper keyword research. Whatever AI content tool you are using, always invest the time to build a good keyword strategy.
Keyword research is the very foundation of a successful Search engine optimization (SEO) strategy. Have a solid keyword research strategy and watch your content climb the search engine ranks faster than you can say 'Google's first page'!
For more information on how to carry out keyword research refer to the detailed keyword strategy here. Semrush or other keyword research tools can be utilized to identify low-competition-high-value keywords that you can target.
What is Content at Scale?
Content at scale is a type of artificial intelligence technology (AI Writing tool) that enables content creators to produce high-quality, consistent content quickly and efficiently.
It is the first AI platform of its kind that allows users to publish material in bulk that is:
Fully optimized;
Of highest quality;
Readily optimized for SEO;
Can bypass AI detection tools and plagiarism scanners;
Producing facts backed up with a source;
The key advantage of using a platform such as Content at Scale is in its ability to generate unique and personalized output in a fraction of the time with as little input as possible such as one keyword or a URL of an already existing blog post.
This technology uses natural language processing (NLP) algorithms to analyze large amounts of data and generate unique, relevant content based on the input provided.
One popular application of Content at Scale is SEO optimization; Before initiating content creation, Content at Scale's AI engines crawl top-ranking sites for the chosen keywords to ensure that generated content is based off top performing pages. This process guarantees that the final product is of high-quality and readily optimized to rank.
From a technical perspective, Content at Scale uses Generative Pre trained Transformer (GPT) technology which consists of two natural language processing and semantic analysis algorithms working in parallel to three artificial intelligence engines.
What makes Content at Scale Unique?
Other AI writing tools on the market require constant input throughout the drafting of an article, requiring further SEO optimization through other tools (eg. Surfer SEO) to make sure it is search engine optimized.
Content at Scale enables content creators to give the engine one single input (to be discussed in detail later) in order to render a high quality article automatically in a matter of minutes, which is already SEO optimized (including meta description). It will take you a maximum of 10-20 minutes (depending on the article) to brush up your content and voila' – ready!
Content at scale has just launched a completely new version of their platform – Content At Scale 2.0, bringing a set of unbelievable features to an already impressive AI writing tool.
Content at Scale 2.0 – Game-Changing NEW Features
In today's fast-paced digital world, multimedia is king. Content at Scale 2.0 introduces flexibility in the creation of articles through the element of 'sources'. This is one of the major updates of Content at Scale 2.0 in comparison to version 1.0. Content at Scale 1.0 limited user input to keywords and context to create the article. With the updated version users now have the leisure to create content from any of the media below:
Existing blog posts URLs: Is your blog post craving a fresh perspective? Input the URL and watch AI generate new insights and stay relevant to the original topic.
YouTubers videos: Leverage video content by transforming key points discussed in YouTube videos into informative written pieces – perfect for repurposing material or expanding on concepts introduced through a visual element.
Podcast episodes: Don't let valuable insights from podcasts go unnoticed. Convert audio content into engaging articles that your audience can read at their own leisure.
Custom audio files: Do you want to convert an inspiring interview or presentation into an equally engaging article for your blog? Upload the file and let Content at Scale 2.0 transcribe it into an article, making it accessible to a wider audience.
Unique voice feature: Content at Scale has raised the bar with this game-changing feature that is built around the customization of written content. Users now hold the power to train their own AI – Rai – to write in their very own, inimitable style. This feature makes the transition from manual to AI-driven content generation much easier as users can retain their own style.
Shopify Integration: Content at Scale has responded to user feedback and launched a direct integration with Shopify, the premier eCommerce platform. This integration empowers users to flawlessly sync their content directly to their Shopify store.
Doc to post feature: This recent feature brings introduces the ability to transform Google or Word docs/presentations into captivating blog articles saving users lots of time to generate content.
How to Use Content at Scale 2.0
This section shows a step-by-step process on how you can write long form content using Content at Scale's AI writing software in just a few minutes.
1) Once you create an account you'll be prompted by an empty dashboard. To start off, you must click on 'create project'.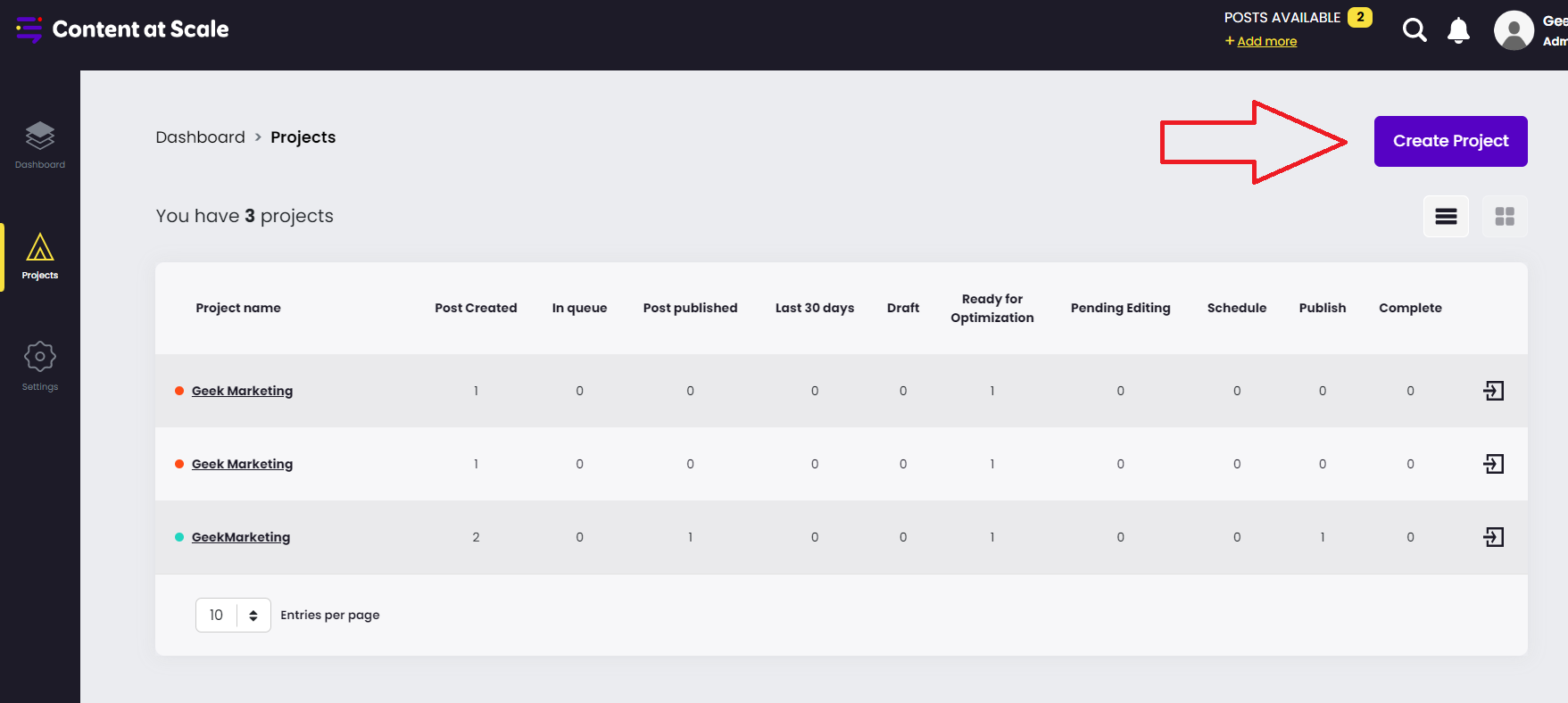 2) Input project details, including website information, project context (which is strongly recommended) and details of the target audience. This is required only once if you will be targeting one audience and publishing content (1 article or more) on one website.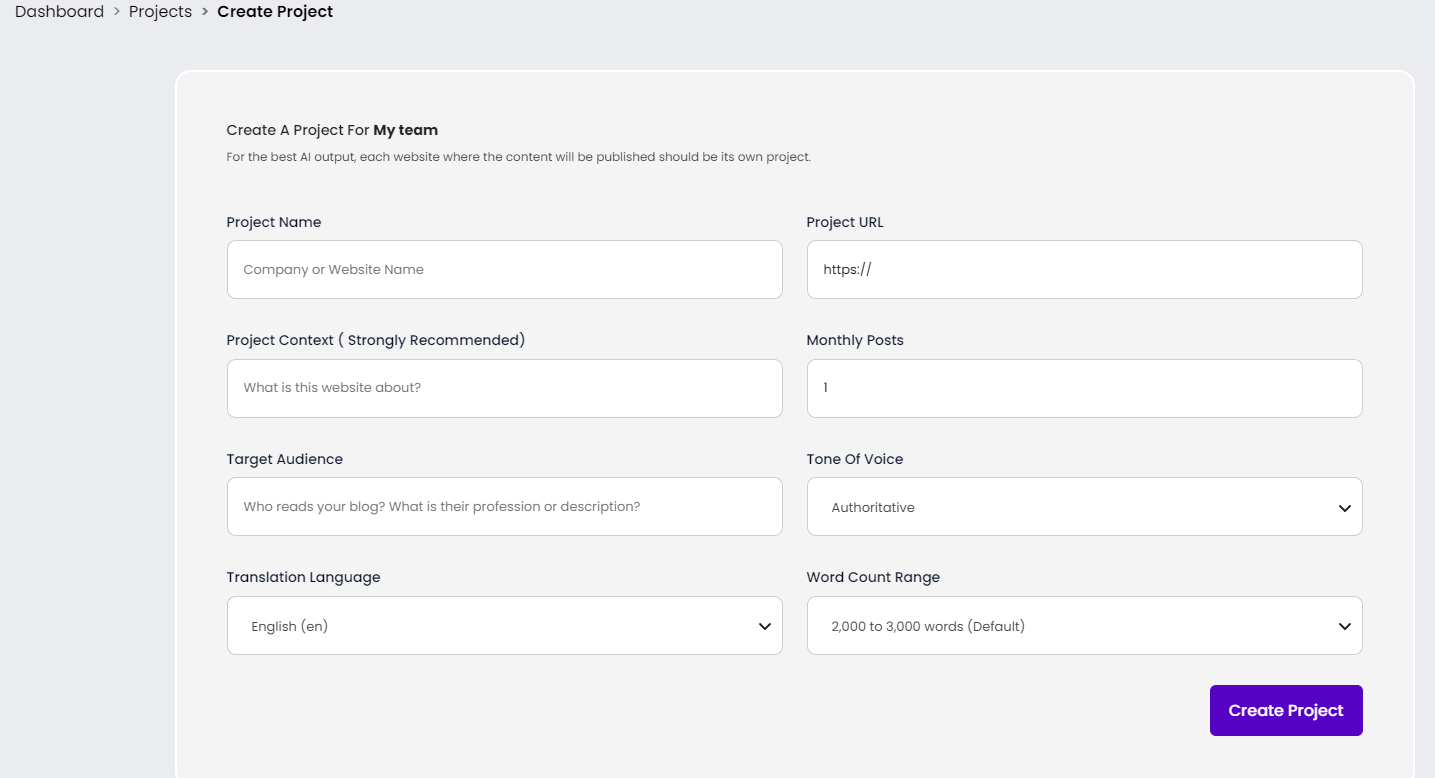 3) Once you Create your Project, your Dashboard will look similar to the one portrayed in the screenshot below. To start creating content, click on 'Add Content'.

4) As already mentioned, Content at scale works best if you pick your informational keywords, articles or multimedia strategically. As shown below, there are several input methods.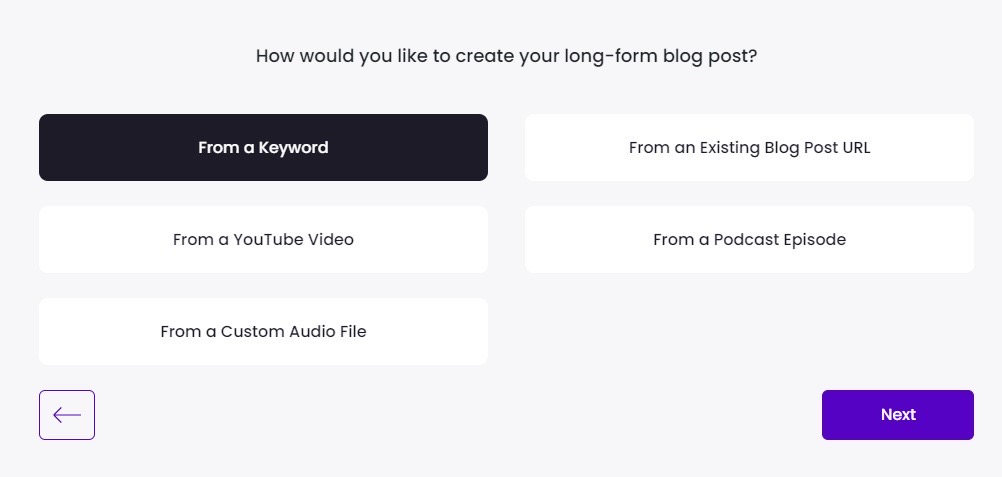 5) Depending on the input option selected, Content At Scale will require further information. For the purpose of this example we selected "From a Keyword" as it is the one that prompts you with most data fields. If you choose from YouTube or existing blog post URL you are only required to provide the specific URL to create your content.

Informational Keywords: Input one keyword or upload a number of keywords in batch (in a .CSV file).
Word Count: Should represent the number of words generated by the AI copywriting software. This determines the length of your article. Make sure to apply a relevant word count that is relevant to your audience.
Additional Context: Marked as optional, this input should establish topical boundaries. If left blank, the AI engine will create content more freely, exploring different topics around the chosen keywords. This makes the article more comprehensive but less focused on a particular topic.
Customizing content: Click on the 'customize button' to be prompted with a list of headings to be included in the ai written content. At this stage, users can add, remove or reword headings which will instruct the AI to produce content accordingly. Users can opt to re-run the process of generating the article if they missed on something. It is very generous of Content at Scale to run re-generations of an article with no added cost (no credits used). Thumbs up Content at scale!
Instant vs Queued output: As a last step, users choose whether to create content immediately or submit it to a queue. It is strongly suggested to submit keywords to a queue if multiple keywords are uploaded on a .CSV file. Content at scale would otherwise use up credits to immediately create multiple articles.
6) Once you are satisfied with the input fields for your content, go grab a cold beer or cocktail and In a few minutes you will see that your article has been created with status "Ready for Optimization". The next Step requires you to edit/add more content in the content editor before publishing.
How to Use Content At Scale 2.0 Content Editor
Improved Editor Experience
The Content At Scale team have been highly receptive to feedback from their customers following their launch of version 1.0. Their magical developers sprinkled in some AI magic as well to create an even more intuitive and user-friendly experience for all those content marketing aficionados out there. The content editor in version 2.0 is a breeze to use. It makes beginners feels like pros. Let's go through each and every section and understand how to use the tool to your advantage.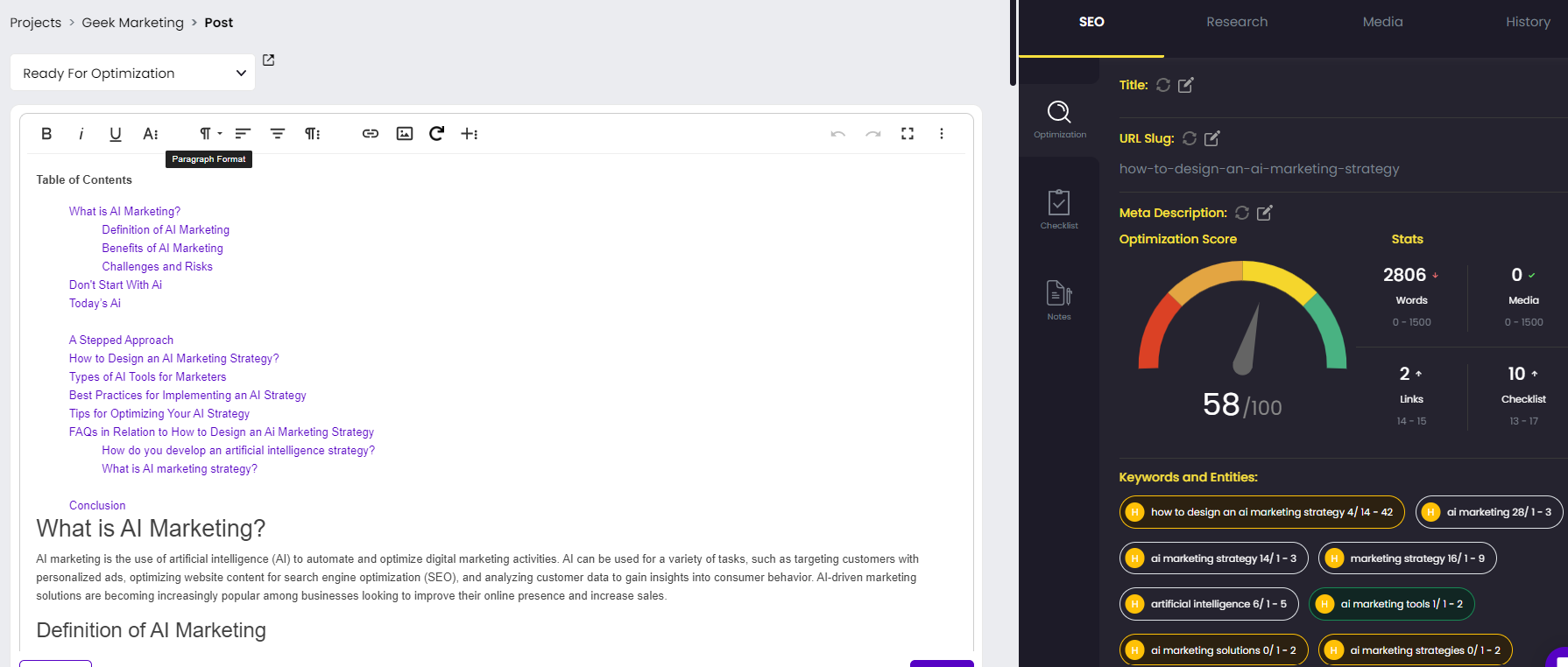 Advanced Editing Features for Better Customization
Successful businesses have full control over their valuable content, which is why Content at scale has embedded all control functions within their content editor user interface. Although Content at scale provides you with high quality content in its first run of an article, you are still given the option to optimize the generated article and close any gaps as you deem fit.
Optimization Score Tracking
Keep tabs on how well-optimized your article is as you write with real-time score updates. To those already familiar with the concept applied by Surfer SEO, the content editor for Content at scale provides you with suggestions on what keywords you should be adding to improve your article in terms of SEO compared to the top ranking pages. You are also provided with suggestions on whether you require further content, links and media to achieve a better level of optimization.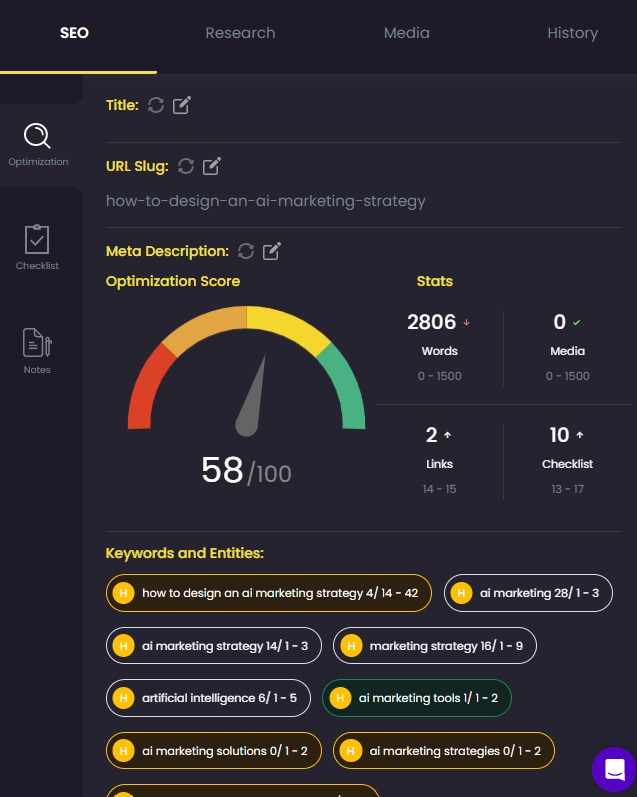 Customizable AI Sections
If you got inspired after creating your article with Content at scale, you can customize specific additional sections to the generated article. You just need to provide Content at Scale with the heading you want to apply together with some context and let the AI software take care of the rest.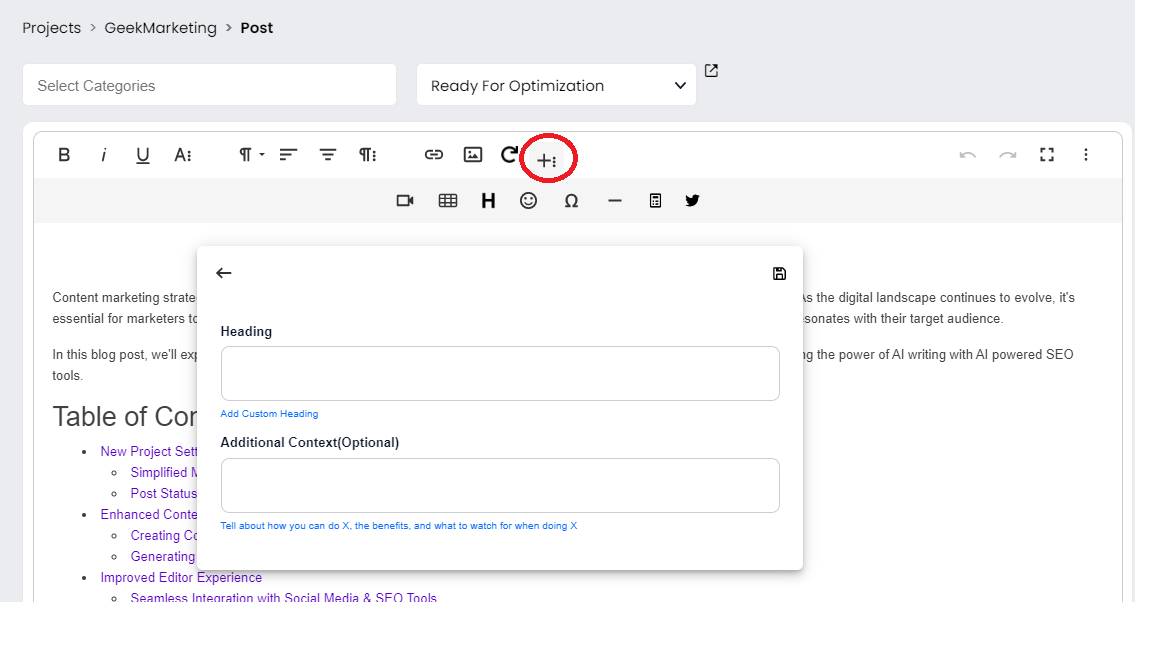 Checklist
Apart from the optimization score tracking, the AI engine gives you visibility over the items which you should consider adding or changing in the article. You should definitely consider ticking most of the items on the checklist before publishing.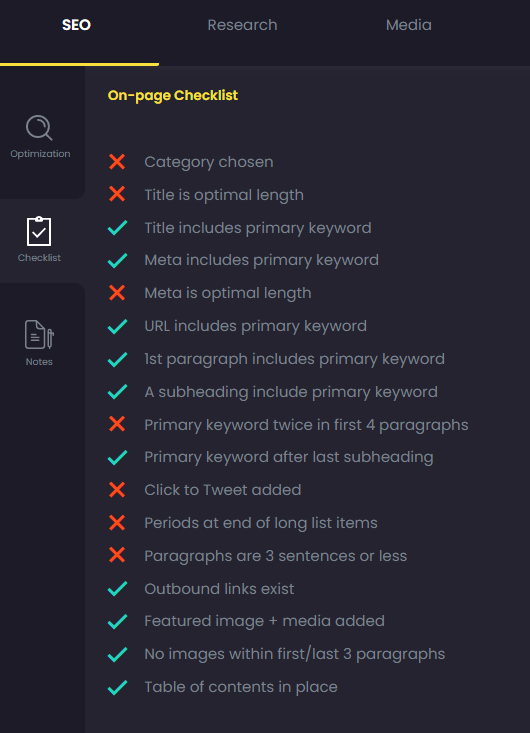 Easy Image Insertion
No more fumbling around trying to find the perfect image. Simply insert images right within the editor. You can decide to use your own images or use images from their thousands of free stock images.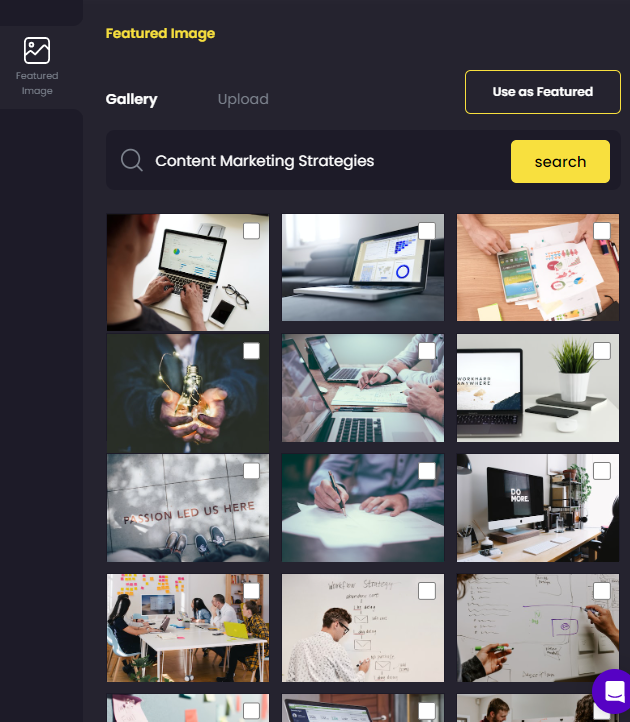 Content At Scale AI Detector & Plagiarism Scanner
Search engines such as Google adhere to strict guidelines when it comes to measuring quality content. If a website or platform contains AI-generated content, search engines penalize content and at times remove it completely from generated search results. This can greatly decrease website and/or content visibility and reduce traffic drastically.
As part of their product offering, Content At Scale provides a highly effective AI detector that helps users identify content flagged as 'AI-generated'.
This content can be easily removed and updated to safeguard from the content police out there. Content at scale's AI detector is currently available for free for the general public and is now integrated in the content editor of Content at scale version 2.0. By default most of the content generated by content at scale has a very low level of AI detection.
It is highly recommended to use the AI content detector and publish content with a score of 90% or more. Lower scores may be captured by the AI detection crawlers applied by search engines. As AI is a new technology, it is advised to run the generated content across multiple AI detection services.
Another very effective and cheap AI detection service is Originality that provides a score reflecting the AI's confidence that content was produced by an AI tool using GPT-2, GPT-J, GPT-NEO or GPT-3
This also applies for the plagiarism checker provided by Content at scale, which is embedded within Content at scale in the same way AI content detections is. Content at scale's built-in plagiarism scanner gives you comfort that your work is 100% original so you rest assured that your niche content is not an imitation.
Content At Scale Re-Run Functionality
The 'Content Editor' section gives you total control over the generated content in instances when you want to give it your personal touch or want to repurpose the article's focus on a different topic. Make use of the re-run feature offered by Content at scale. Make sure you provide the basic details and Content at Scale will handle the rest.
How to Train Unique Voice AI Model of Content at Scale 2.0
Unique Voice grants content creators the ability to express their individuality like never before. By training the AI model to compose in your specific tone and style, you can generate content that truly resonates with your audience. Whether you wish to mimic the writing flair of renowned influencers like Adam Enfroy, or even Julia McCoy from Content at Scale or carve out your own custom style – Unique Voice delivers unmatched adaptability and personalization.
Training your AI model is a is extremely intuitive. Head over to the project settings and find the new AI training tab, where you have access to a collection of exemplary pieces that epitomize your desired style. From captivating introductions to thought-provoking snippets and paragraphs, cherry-pick content that highlights your preferred tone of voice.
Sum up the context and style of your handpicked samples, ensuring the AI grasps the essence of your writing. It's akin to having your very own AI sidekick that generates long-form content in mere minutes, tailored to your one-of-a-kind style.
Seamless Integration with Third-party Platforms
Project Settings for Content at Scale
Gone are the days when you had to juggle multiple platforms just to get your content marketing strategy on point. With Content at Scale 2.0, you can integrate external links from popular platforms like Facebook, Instagram, or a tweet from Twitter.
This means that articles generated by Content at scale will be primed for maximum reach across various channels. These details can be easily changed from the project setting section shown below.
Content At Scale 2.0 Integration
Similar to the WordPress plugin available on version 1.0, Content at Scale can be easily integrated with WordPress by downloading a plugin. This will allow you to have the article immediately posted on your site once you change the status of the article to published.
The cool part is that this integration allows for automatic internal linking with other articles you have and any changes in the content editor or WordPress are synced automatically. Content at scale will soon introduce Shopify integration.
The AIO Writer's Framework
The advancement of GPT-4 and Content at Scale's proprietary NLP algorithms has yet to produce AI-generated writing that's immediately ready for publication.
This is because AI lacks the ability to capture personal experiences, client emotions, and unique tones. To address this, the C.R.A.F.T. framework was developed to help writers effectively navigate the AIO approach.
By following its principles—cutting fluff, optimizing with keywords, incorporating visuals, fact-checking, and building trust through personal narratives and authoritative links—writers can transform AI-generated content into engaging and accurate pieces. You can find a more comprehensive explanation of this framework from Content at Scale themselves.
Content at Scale Vs Other AI Content Writers
Content at Scale is unlike anything else on the market. Other content writing software covers one layer of the multiple algorithms running on Content at scale. This enables the platform to generate high-quality content with as little human intervention as possible.
This section highlights the main difference between content at Scale and other top-tier Content at Scale alternatives such as WriteSonic and Jasper ai.
When looking into the detail of the features offered by Content at scale as opposed to its competitors, there is one element that is missing from the rest. The functions vs focus templates for users on conventional AI writers require users to choose a template or framework to give context to the AI engine. Content is also formatted in certain ways as predefined by the chosen template.
WriteSonic Templates
Jasper Templates
Content at Scale is an AI writing machine that writes whole long-form drafts from as little as a single input such as a topic or keyword. This shows the power of the AI engine running this software, offering limitless combinations of creating unique content as opposed to predefined content with other competitors.
Content at scale is the perfect tool for publishers, business owners, and bloggers who want an AI writer to provide an entire blog post with little to no intervention by human writers. Jasper and other competing brands on the other hand are useful for users looking for an AI-writing assistant that helps create ad copy faster and other frameworks with heavy human intervention along the creation process.
Another distinction between Content at scale and other content writers is how SEO is managed. Content writers such as Jasper allow for an integration with Surfer SEO to optimize content production with respect to a target keyword pulled from high ranking websites. Content at Scale on the other hand provides an on-page SEO checklist within the native editor together with all NLP keywords pulled from top ranking articles.
Content At Scale Pricing Plans
Content at Scale has recently revamped their pricing offers giving users the opportunity to try out Content at Scale for an unbelievable price of $39.99 for the first month. Users are thereafter charged a monthly fee based on the chosen profile. Depending on the chosen plan (one out of four shown below), users can create a predetermined number of monthly posts (between 8 and 100 posts per month) useful content creation tools and functionalities.
The trial offer from Content at Scale gives users who are not yet ready to subscribe to a full plan the option to try out a market-leading AI content writing tool for an affordable price of $39.99.
You will have 7 days from signing up from the trial to make a decision to move forward on the monthly plan offerred by Content at Scale.
In addition to the above, Content at Scale is giving users a YEAR of content strategy, done-for-you, for free at ANY plan starting at $500/mo or more.
Yes – Content at Scale's content strategists will do a year's worth of content strategy for you, for free.
The Solo Plan
This is the cheapest package available by Content at Scale at $250 per month (payable from month 2 onwards). Although it is the cheapest subscription, this package comes with the highest cost per word created. This package is very affordable and is a great price point for small businesses and freelancers which will give you 8 SEO high-quality articles equivalent to 1 part-timer or 1 freelance writer.
The Starter Plan
Users can start creating content for $500 per month (after one month trial of $39.99) with the STARTER package. This gives them access to 20 posts per month, bringing the cost per post to $25. This package gives users access to the key features of Content at scale. Content at scale's team compares the cost of their service to the cost of employing 1 full-time or 2 freelance writers. Of course, Content at scale does not bring the same planning and crisis management required with employing people.
The Scaling Plan
At $20 per post, users pay $1,000 per month (from month 2 onwards) for a package of 50 posts. The price paid is the equivalent of 2 full time or 5 freelance content writers. This package comes with all features covered in the Starter Package and a new feature – Automated Keyword Drip that is listed as 'coming soon'. More information will be provided when this feature is launched.
The Agency Plan
Users get access to 100 posts per month costing $15 each [$1,500 monthly] after the trial month. The monthly price is equivalent to 5 full-time or 10 freelancers on content writing. Customers get access to additional features on top of those offered in the Scaling plan that included waived setup fees ($1,000), a reporting dashboard and a white-label setup on the customer's subdomain.
Customers may choose to use this tool to grow their online content or to produce content for other businesses and make a margin from the service that is offered. Reselling content writing as a service has never been easier. With a content automation platform like Content at scale, creating content takes much less time than ever before.
The Done-For-You Plan
The done-for-you-plan is not included with the trial offer. This plan outsources keyword research to the experts at Content at scale for a monthly fee of $2,000. The end-decision on the type of content that is published remains with the account holder. This plan gives users access to the Content at scale platform where they can edit and optimize up to 20 posts per month. .With this plan, users also get access to a scheduler that can schedule content publications on a daily basis.
Offers Not To Be Missed
Get 20% EXTRA Post Credits every month if you subscribe now!
One Year of Expert Content Planning for FREE. Opt for a plan above the Starter level, and content at scale have you covered with an entire year of expert content planning provided by their team of seasoned professionals.
Content at Scale Review: Pros and Cons
The following are the key takeaways from our Geeksters after a hands-on session with this powerful tool.
Content at Scale – Pros
The best AI writing tool on the market to create long form content.
Scale up high-quality content even if you are a small team.
An all in one content creation engine. You will not need to spend money on other subscriptions for content creation or SEO (such as Surfer SEO)
Super easy to publish content on your site and social media via multiple integrations.
Content at Scale – Cons
Starting price may be on the high-side. If you are looking for something that works very similar to Content at Scale but at a cheaper price you might want to have a look at Article Fiesta review.
Requires some time to get used to be able to maximize the features to their fullest potential.
Generated content has to be vetted for any modifications.
Conclusion
As artificial intelligence goes mainstream, it will make traditional digital marketing software obsolete. Jumping on board the AI revolution at such an early stage gives businesses (large or small) a head start over their competition.
In the world of digital content writing, static AI writing tools such as Writesonic and Jasper work well for users looking to produce content themselves for copy, draft ads and Youtube videos. Content at scale is unparalleled though when it comes to generating world-class long-form blog content through unique inputs such as You Tube, audio etc. The speed with which quality content writing moves from draft to publication with minimal human intervention is fascinating.
In this article, we have treated the subject of generating new content. However, refreshing existing content is as critical in order to keep your audiences hooked on the most updated content. Use Content at scale to repurpose or refresh your articles by adding new topics and updated information.
Making sure that you go through all of the AI tools on the market and picking the best one to produce content will make your life much easier. Nevertheless, users should keep in mind that money pages/pillar posts, such as review blogs, are as critical to their content portfolio where visitors are keen to receive a subjective perspective that no AI tool can give as yet.
For those looking to promote AI Marketing tools, Content at Scale also have a lucrative affiliate program.