Due to the highly engaging nature of social media videos, various software products have focused their efforts on bringing to the market sophisticated video generating tools for leading social media platforms (e.g. facebook video maker, instagram video maker, youtube video maker).
This has opened a whole new world for content creators: cartoon videos, animated videos, news feed videos, live videos and cover videos amongst other video content to engage visitors.
High quality animation videos are engaging and visually appealing means of communication with customers. Animated videos convey complex ideas with ease while capturing the attention of potential customers.
In this blog post, we explore in detail Steve AI – an AI powered Video software offering unique features to create animated explainer videos for your customers. Steve.ai was developed by the team behind Animaker. It provides editable pre-written scripts to save time during video creation. In addition, the video content software has text-to-speech capabilities and varied voice options that enhance viewer engagement.
By understanding the powerful tools offered by Steve AI for high quality animation video production (e.g. youtube videos) your business can elevate its marketing strategy and captivate audiences like never before.
Table of Contents:
Developed by Animaker's Team
The creators of Steve AI are none other than the masterminds behind Animaker, an award-winning DIY video-making app trusted by millions of users worldwide. You can therefore expect top-notch quality and user experience when using their latest offering – Steve AI. The expertise gained from developing Animaker has been applied to ensure this new tool delivers exceptional results in creating high-quality animated marketing videos.
How to Repurpose Content and Get The Most of Your Marketing Efforts
As a small-medium business owner, you understand the crucial role of content creation for your marketing strategy. You have two options here – either employing a professional content creator or writing content yourself. The first option is costly whilst the second option is time consuming. That is where content repurposing comes in. Did you know that repurposing your existing content can save time and money whilst increasing engagement with your audience?
The Importance of Repurposing Content
Creating new content from scratch takes time and resources. However, you can maximize value across multiple channels by repurposing existing content. Here are a few examples of repurposing content:
Create youtube videos from a blog. A blog post can be turned into an animated marketing video or explainer video using high-quality AI software.
Create social media posts from an infographic. An infographic can be broken down into smaller social media posts or used as part of a larger email campaign.
Create a podcast episode from a webinar recording. A webinar recording could become a podcast episode or transcribed into text for use on your website or in an eBook.
By repackaging your existing material in different formats, you will be able to reach more people without having to create entirely new pieces each time. Repurposed content also gives customers an opportunity to engage with your original content if they have missed it through another medium.
The Benefits of Using Steve AI for Repurposing Content
Content repurposing may sound too good to be true. On the other hand, you may feel overwhelmed at doing it. – That is where Steve AI comes in handy. This innovative tool to create videos offers various options for content repurposing that include:
Text-to-animation videos (quick and effective)
Audio-to-video conversion (perfect if writing is not a skill)
Tweet-to-video (for those social media fanatics – coming soon)
Power point-to-video (coming soon)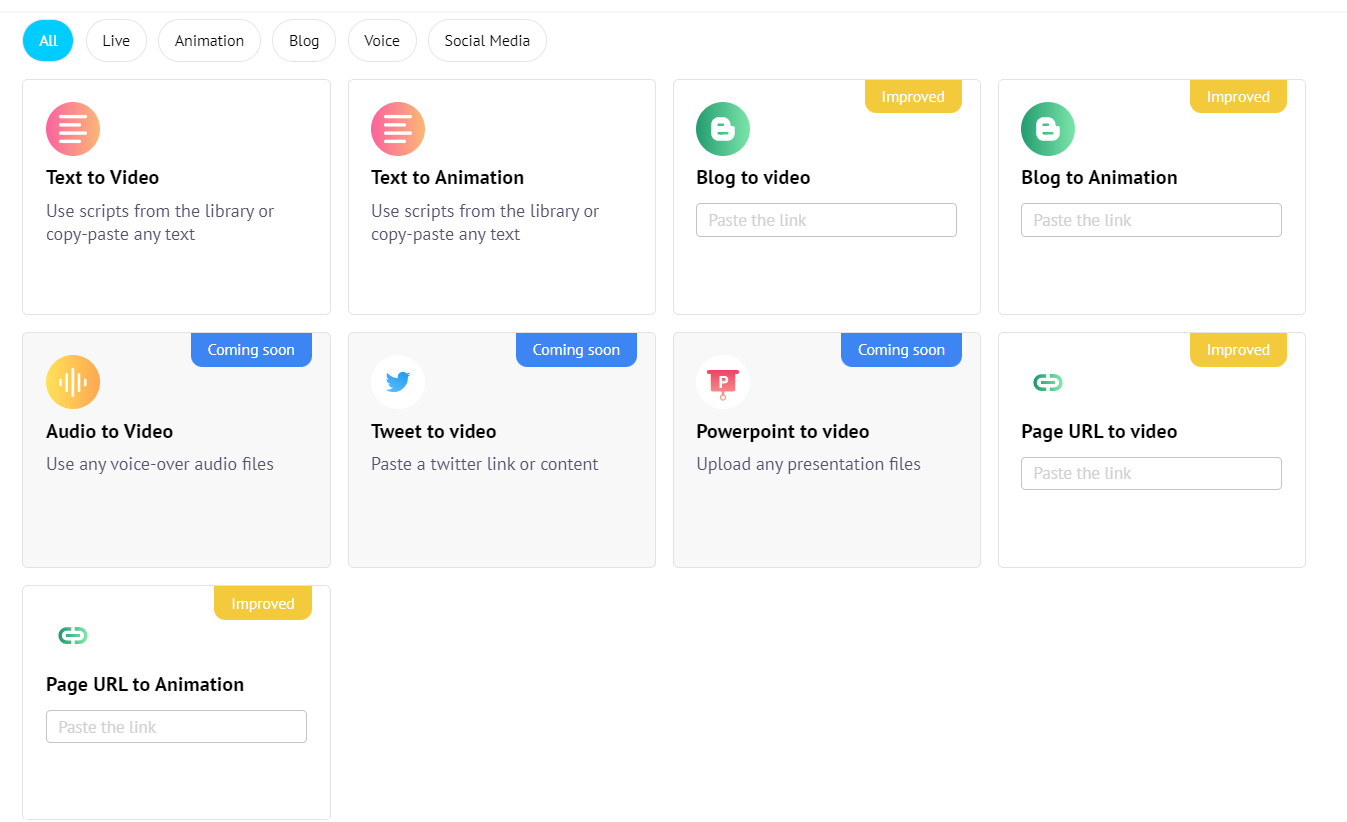 Steve AI Test Run by Our Geeks – Blog to Animation
As we at Geekmarketing are bloggers at heart, we wanted to give Steve AI a try. We tested the "Blog to Animation" function to rate one of the key strengths of Steve AI for creating videos.
Step 1 – Context
We have put the URL of our article 'Blogging Vs Vlogging' in the free text box and were prompted with the below. At this stage we had to decide whether we wanted a short, medium or large video. As our blog on the difference between Blogging vs Vlogging is a very detailed article, we chose the medium option otherwise it would have been very hard to fit in the most crucial information.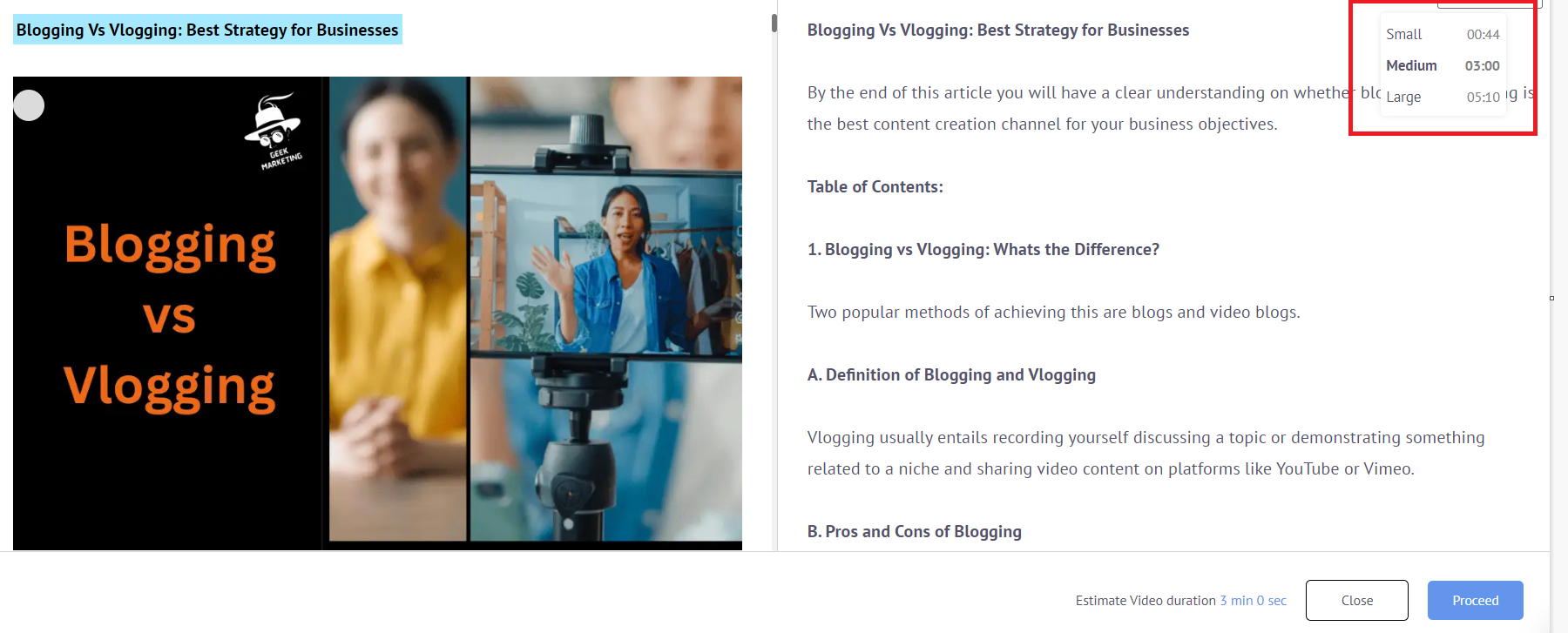 Step 2 – Initial Scripts
Once we clicked proceed, Steve AI automatically generated the first 60 scenes for our video. At this stage we only had to do 3 simple tasks:
Write what the video is all about;
Choose the type of video (animated or not animated);
Choose whether we wanted background music, voice over or any other highlights;

At this stage we didn't change any text from any of the scenes as these can be optimized later. It is important to keep in mind that there is a max character limit per scene, so you can't write big chunks of text.

Step 3 – Design Style
As we've chosen animated video is the previous step, we were prompted to choose one of their designs for our animated video.

Step 4 -Workspace
This is the last and most time-consuming stage before publishing. We had to ensure that:
The chosen layout by the AI was to our liking – (There is an option to choose from other layouts);
The chosen colour matched our brand kit;
Text in scenes was updated (IMPORTANT), as we noticed that chosen text for a number of video slideshows was incorrect.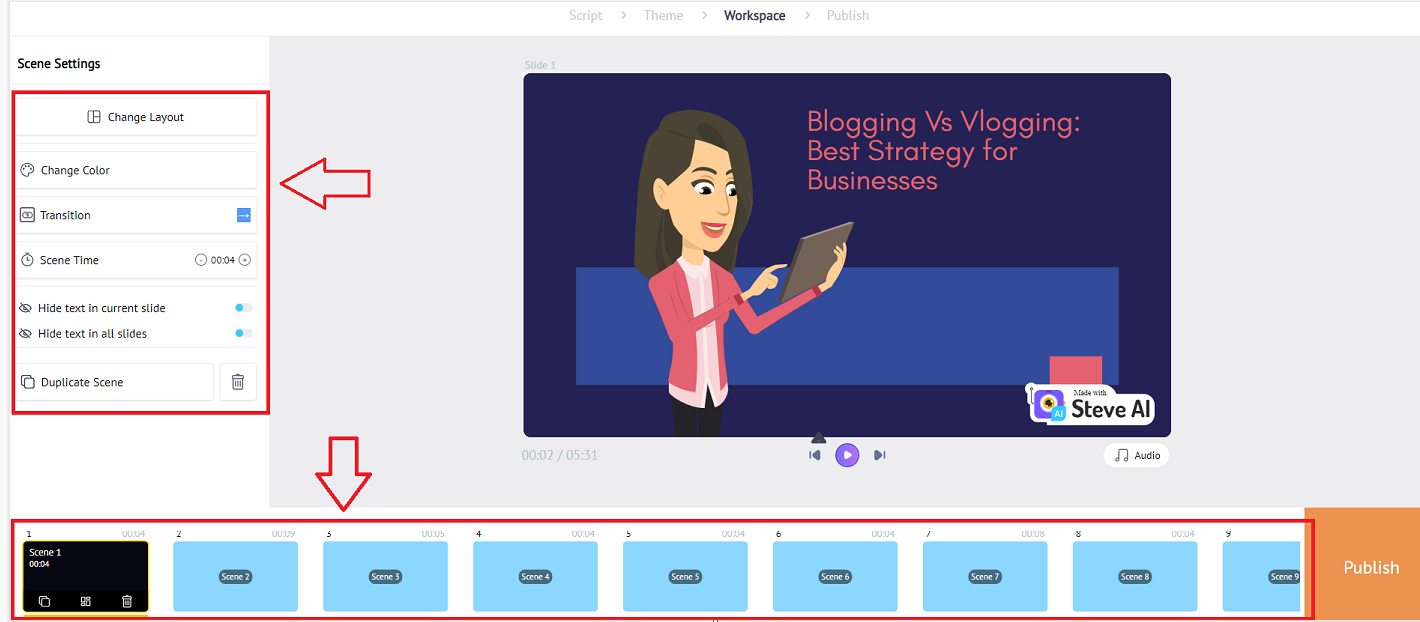 Step 5 – Publishing
Final review of the video including the selection of size and quality. This will depend on the plan you have enrolled to. If you are on the free plan, you will only have an option to download in SD 480P or HD 720 (lower quality versions).

Unique Features of Steve AI
Pre-Written Scripts for Explainer Videos
One of the key advantages of using Steve AI is its pre-written scripts for explainer videos. Users can customize the pre-written scripts to their own requirements, allowing them to obtain a professional result without having to start from scratch. This saves precious time and effort. Based on our experience, c. 1 of every 3 scenes required fixing. However, this still saved us a lot of time.
Text-to-Speech Features & Voice Options
One of the most entertaining aspects of creating an animated video is giving life to your characters through voice over. With Steve.ai, you have access to a fantastic text-to-speech feature that comes with four distinct voice options, making it easier than ever to add personality and depth to your animations.
Matthew (child): A youthful and energetic voice perfect for representing young characters or adding a playful tone.
Joey (deep pitch): This deep-pitched option lends gravitas and authority and is ideal for narrators or serious characters.
Justin (robotic low-pitched): If you are looking for a futuristic or robotic voice over, Justin's unique low-pitched tone will do the trick.
Kendra (stale): For those moments when you need a more neutral, informative delivery, Kendra provides just the right balance.
The variety in these voices delivers an engaging audio experience and also ensures that each character stands out from one another. You are free to change the accent, gender or even language depending on your audience.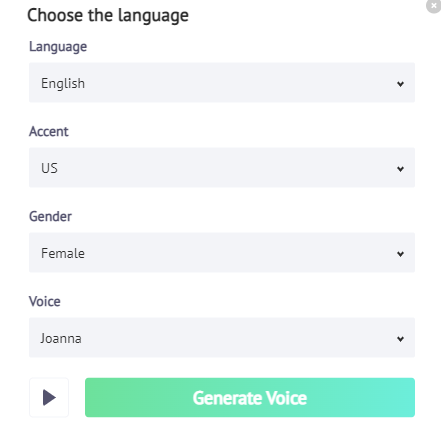 Control Over Background Scenes and Characters
Steve AI also grants users control over background scenes and characters to ensure that the animated video matches with your business. You can change backgrounds based on different themes like cityscapes, nature settings or abstract patterns depending on what suits best for each scene within your animated video project.
Select from pre-designed templates catering for various industries such as education, e-commerce, and entertainment.
Customize colour schemes to match your brand's visual identity or create a specific mood within the scene.
Add props, objects, or additional characters to enrich the environment and make it more dynamic for viewers.
In addition to these customization options, Steve AI also allows you to change the character in the video and manipulate their actions. This gives you even greater control over how each avatar interacts with their surroundings in your animation video.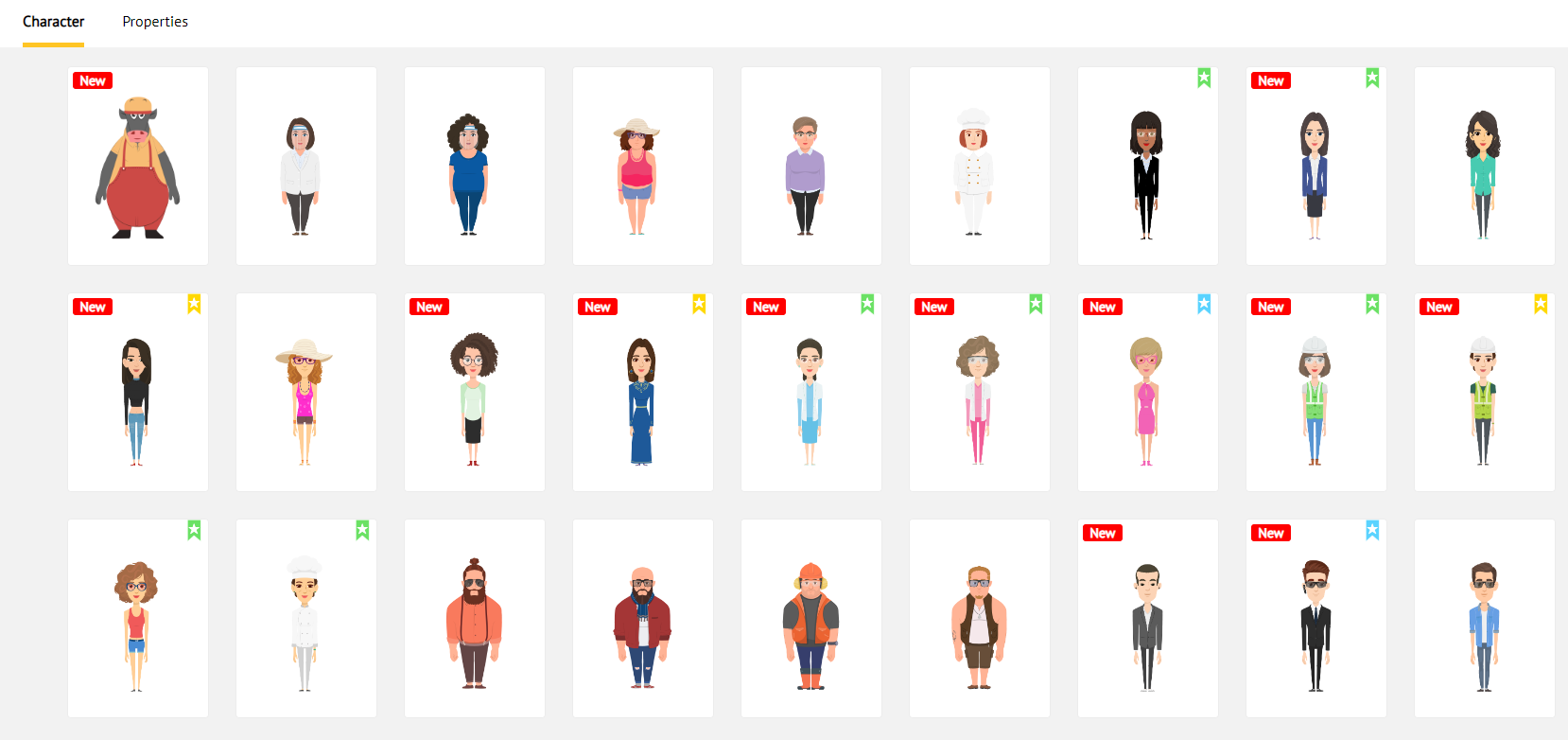 Control Over Background Music
Steve AI comes with a large selection of music you can use in your videos. You can simply search in their library or else upload your own tune.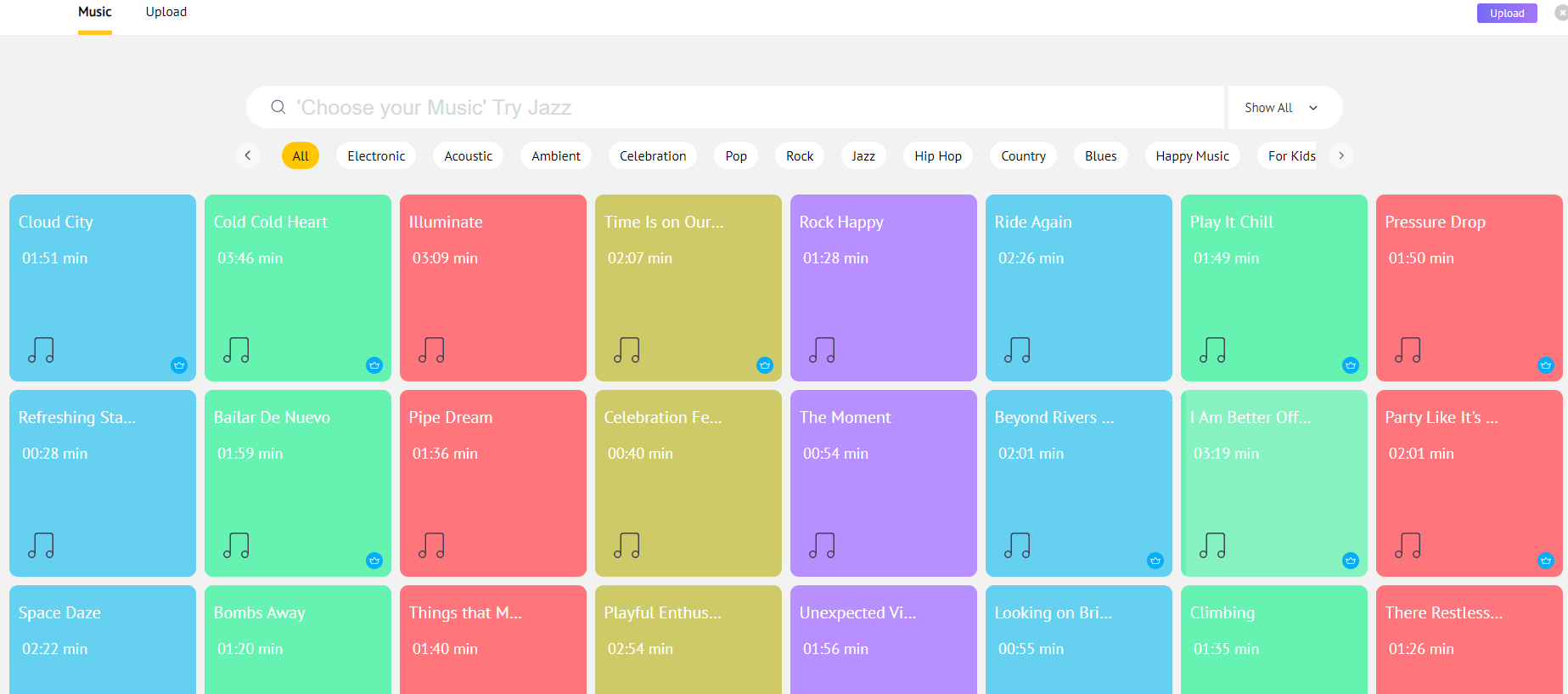 What are the Pros and Cons of Steve AI?
Pros
Very simple to use – You can create and edit videos in a few simple steps without previous knowledge;
You can reach larger audience by targeting users that prefer videos than text readers;
Cost effective compared to other video production software;
Cons
Initial output from AI is far from perfect. It requires your input, mostly in relation to the scripts;
You cannot host the videos on Steve AI platform so as not to overload your website with videos;
Free version only limited to low quality watermarked videos;
Steve AI Pricing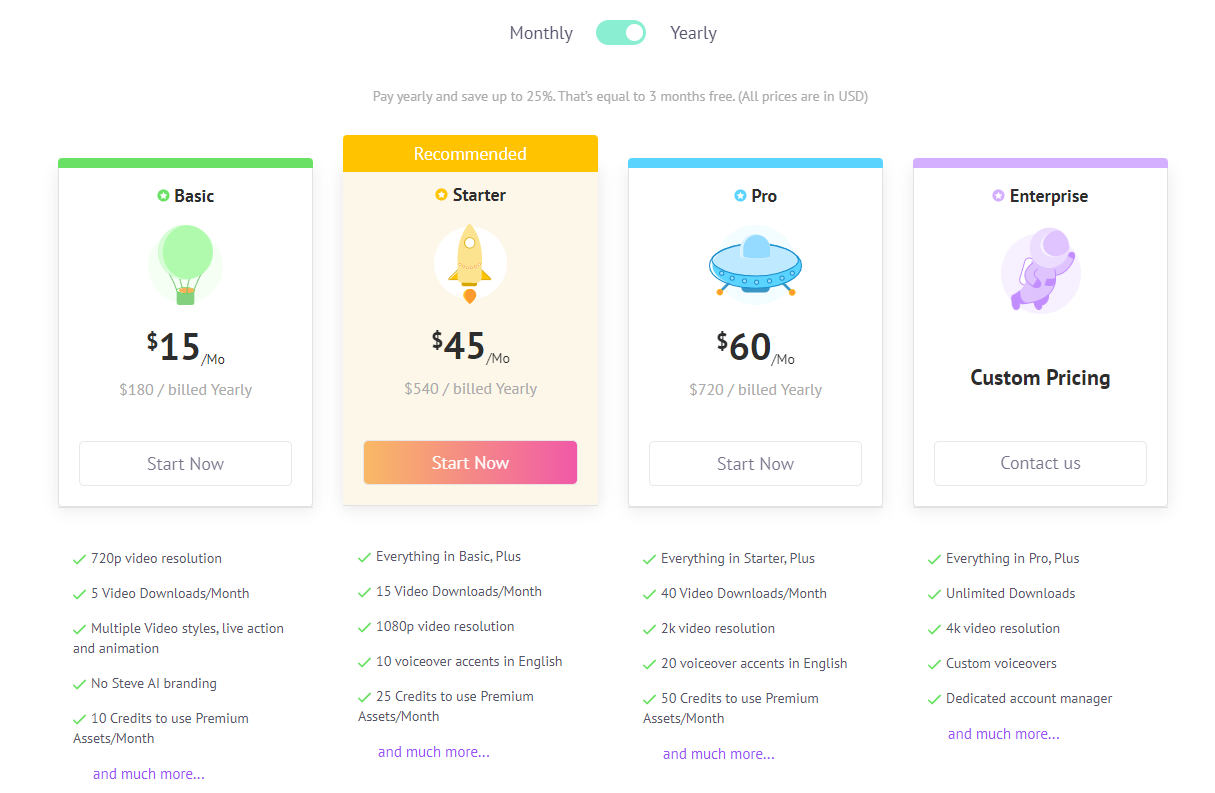 Free Version – Only 3 lower video quality downloads per month with Steve AI watermark;
Basic Version at $15/monthly – 5 watermark high quality video downloads per month (720p video resolution);
Starter at $45/monthly – 25 watermark high quality video downloads per month (1080p video resolution) including a wider selection of 10 voiceover accents in English;
Pro at $60/monthly – 40 watermark high quality video downloads downloads per month (2k video resolution) including a wider selection of 20 voiceover accents in English;
Enterprise – Price to be discussed. This package will allow you to create a custom voice overs, video download with a resolution of 4k and unlimited downloads;

Alternatives to Steve AI
Synthesia IO
Synthesia IO, is an advanced AI Video Production System, that provides an effortless tool for creating top-tier digital films without expensive resources.
Main difference from Steve AI is that whilst Steve AI's main focus is animated videos, Synthesia IO main feature is to create human-like avatars with perfectly synced lip movements, enhancing your digital marketing efforts.
Synthesia's versatile applications include:
· Engaging explainer videos;
·Promotional social media content;
· Instructional videos;
·Training and testimonials.
Pictory AI
Pictory AI is one of the best video-generating tools on the internet. It is jam packed with a number of different features for anyone interested to create videos for different channels. However, it's best suited for professional marketers, course creators, you tube channel owners, and social media marketing agencies. If you're an amateur who creates videos in your free time, you're better off with a more basic straight forward tool such as Steve AI.
FAQs in Relation to High Quality Animation Video
What Makes Animation high quality?
High-quality animation consists of smooth transitions, attention to detail, and realistic movement. It often involves the use of advanced software tools and techniques such as keyframe interpolation, 3D modelling, and shading. A well-designed colour palette and appropriate sound design also contribute to the overall quality of an animated video.
What Makes a Good Animated Marketing Video?
A good animated marketing video effectively conveys its message through engaging storytelling, appealing visuals, clear audio narration or dialogue, and fluid motion. It should maintain viewer interest throughout its duration while achieving its intended purpose – be it educational, entertaining or promoting a product or service. Incorporating SEO keywords can also improve the video's visibility and reach.
What Makes Animation Effective?
Animation is effective when it captures viewers' attention with visually stimulating elements while delivering information in an easily digestible format. The combination of visual cues with auditory components enhances retention rates for complex concepts compared to static text-based content alone.
Conclusion
Overall, Steve AI offers a unique set of features for creating high-quality animation videos. From pre-written scripts to customizable avatars and actions, the platform provides small-medium businesses with an efficient way to produce engaging animated marketing videos.
With control over background scenes and a wide range of avatars at their disposal, users have plenty of creative freedom in their video creation journey. Despite the room for improvement, Steve AI is a fantastic and highly versatile tool for customers looking to reach a larger audience without breaking their bank. Steve AI is the companion for new video creators with limited to no video editing skills.