Introduction to Writesonic – The AI Content Generator
Writesonic is an AI content writing and image generation platform with a mission to empower everyone in the world to create content 10X faster. Amongst other copywriter tools, it is quickly growing into a solid brand offering an extensive range of features and templates to help content creators produce high-quality content quickly and easily.
Writesonic provides a drag-and-drop editor and a range of content templates that include articles, blog posts, landing pages, Google ads, Facebook ads, Shopify, product descriptions and landing pages. With Writesonic's custom editor, users can easily create and edit content. The templates provide for a good starting point to create content, giving users the option to customize templates and create unique content that your customers love.
Writesonic is also competing in the niche of AI writing tools through its powerful AI-driven writing assistant that helps users quickly generate content, offering smart suggestions for keywords, titles and more to make the content attractive and relevant for SEO. The assistant is capable of generating a summary of content through AI. One other highly effective feature offered by Writesonic is the rewriting option that allows users to quickly generate variations of their content and choose the most relevant content for their strategy.
Writesonic comes with a range of other tools that bring value to a marketing strategy. These tools include a keyword research tool, an article outline generator, and a content planner. All of these features make this tool highly effective for publishing Seo optimized articles and plan content strategies.
Benefits Of Writesonic
Writesonic helps users save time and money by creating quality content in a short span of time. The AI-driven technology also helps to create content that is unique, engaging, SEO-optimized and tailored to your target audience.
Writesonic is also highly versatile allowing users to create content for a variety of different purposes, including blog posts landing pages, website content, social media posts, high quality articles and more. Additionally, the tool can be used to create content in multiple languages.
Use Cases For Writesonic
Writesonic can be used for a variety of different use cases. Here are just a few of them:
Blog posts and Website Content: Writesonic can help you quickly create content for your blog. It can generate blog posts that are optimized for SEO and tailored to your target audience.
Social media posts: Writesonic can help you create content for social media. It can generate content that is unique, engaging, and tailored to your target audience.
Email campaigns: Writesonic can help you create optimized for effective email campaigns.
Press releases: Writesonic can help you create content for press releases.
Features of Writesonic
Writesonic is a one of the AI writing tools exploiting the power of generative Pre trained Transformer (GPT) developed by OpenAI. It has a number of features that make it an excellent content generation tool. Here are a few of the features that make Writesonic stand out from the crowd:
AI-driven technology: Writesonic uses advanced artificial intelligence (AI) to write content quickly and accurately.
Multi-language support: Writesonic can be used to create content in multiple languages. This makes it an excellent tool for content creators who want to reach a global audience.
Customizable content: Writesonic integrates highly customizable content that you can create. You can add images, videos, and other media to make the content more engaging.
Fast and accurate: Writesonic is incredibly fast and accurate. It can generate content quickly and accurately, so you can spend less time creating content and more time optimizing it.
Easy to use: Writesonic is incredibly easy to use. All you have to do is enter a few keywords and the tool will automatically generate content based on those keywords.
WriteSonic Latest Features
ChatSonic
Start writing text and produce images with Chatsonic, the latest featured AI-powered assistant from Writesonic. It receives user input and uses sophisticated AI algorithms to create personalised graphics that match the intended aesthetic of the user. Chatsonic has a strong relationship with Google search that facilitates the creation of hyper-relevant material and the use of AI to produce original digital artwork and photographs.
Chatsonic can respond to inquiries with accuracy and carry out routine operations without issue. Chatsonic offers in-depth summaries and insights into current news, trends, and conversations with the aid of Natural Language Processing (NLP) and machine learning. Users can then create information that is accurate and compelling about current relevant issues.
Chatsonic's unique user interface can create art in a range of genres, from abstract to photorealistic and may even be customised with the user's name or other original attributes. For individuals who wish to produce amazing artwork without having to grasp the technical parts of digital art, it is an essential AI tool.
You can also use voice commands, eliminating the requirement for laborious inputting of inputs. Applications that mimic human interaction are known as AI chatbots. They are designed to comprehend and recognise user input, which typically takes the form of speech or text commands. Chatbots are widely used to automate customer support tasks, provide assistance, and even generate leads.
You may now produce content using only your voice and Chatsonic, eliminating the need for tedious writing.
AI Article Writer 4
The AI-driven article writer 4.0 is the most recent upgrade offered by Writesonic that provides an even more efficient way to creating content. This tool takes the hassle out of creating long-form articles, allowing users to generate content in a fraction of the time.
You may create blog entries of up to 1500 words using Writesonic's Instant Article Writer in only 20 seconds. Simply express a topic of interest in a few words and watch the AI writing generator produce articles that require little to no modification. Incredible!
Within 30–40 seconds, Article Writer 4.0 generates fully SEO-optimized blogs/articles, including the title, keywords, introduction paragraph, and outline. The article generator produces writing that is completely coherent from beginning to end that is easily readable, includes keyword suggestions, is grammatically accurate, devoid of plagiarism, and is already optmised to rank highly on search engines.
Additionally, the created blog or post includes semantically appropriate photos that make your material more attractive and relevant to an audience.
PhotoSonic
Photosonic AI Art is a web-based tool that uses a state-of-the-art text-to-image solution to create realistic or artistic images from written descriptions.
The method is built on a process called latent diffusion, which transforms an image of random noise into a coherent image that resembles the text. The quality, diversity, and style of the generated photos can be changed by editing the description and running the model again.
Photosonic AI Art can be used for a multitude of purposes, such as inspiring creative endeavours, outlining one's ideas or testing out various scenarios or ideas.
You can take pictures of anything you choose, then add various characteristics and elements to make them uniquely your own, including scenes, creatures, objects, people, and scenarios. In order to get access to Photosonic AI, users must be subscribed with the Writersonic AI writing tool account.
Advantages of using AI Writing Software
Using AI writing software has a number of advantages. Here are a few of the advantages of using this state-of-the-art software with the most recent AI technology:
Efficiency: AI writing software can help you save time by quickly generating content. This can help you spend less time creating content and more time optimizing it.
Accurate: AI writing software can generate content that is accurate and tailored to your target audience. This can help you create content that resonates with your audience.
Cost-effectiveness: AI writing software can help you save money by quickly generating content. This can help you reduce your content creation costs.
Scalable: AI writing software can help you scale your content creation efforts. This can help you quickly create content for a variety of different purposes (e.g. ecommerce product descriptions).
Tips for Optimizing AI Content
Once you've generated content with Writesonic, you can then optimize it for SEO and readability. Here are a few tips for optimizing AI content:
Use keywords: Make sure to use keywords that are relevant to your topic. This will help your content rank higher in search engine results.
Use headings and subheadings: Headings and subheadings can help break up the content and make it more readable.
Use images and videos: Images and videos make your content more engaging with visitors.
Link to other content: Linking to other content can help make your content more valuable.
Check for grammar and spelling mistakes: Make sure to check your content for grammar and spelling errors before you publish it.
Writesonic Offer – Plans and Pricing
Writesonic offers three different plans and pricing options as follows:
The basic plan is free and allows you to generate up to 2500 of premium words for free.
The long-form plan, which starts from $12.67 up to $600+ depending on the quality and quantity of words you will be generating. If you opt-in for lower quality words you'll be getting a much higher quantity for the same price.For example: If a plan provides 19,000 premium words, that means you can use either 19,000 premium words or 47,500 good quality words or 95,000 average quality words or 190,000 economy quality words. In order to maximize word utilization, you can also mix and match different quality levels at any time.
There is no price for the custom plan as this will depend on your needs but you can opt for a custom package, custom AI model development, onboarding, and support.
Refer to the very helpful and responsive Writesonic support team with any queries you may have.
One last point to mention is that Writesonic is giving 30% discount to students and NGOs purchasing their annual plan. Hurry up and grab this deal while it lasts.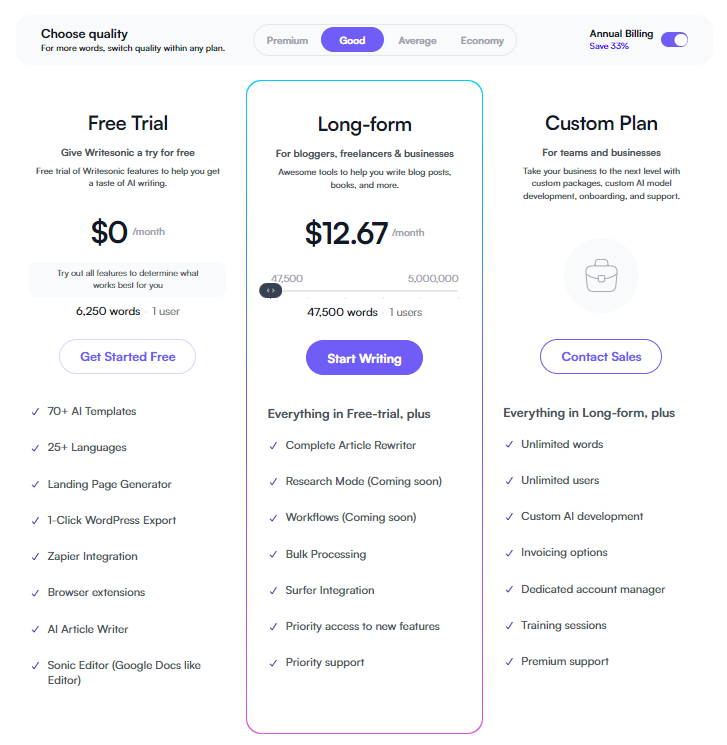 Getting Started With Writesonic
Getting started with Writesonic is simple. All you have to do is sign up for an account and then you can start creating content. The first step is to choose a topic and then enter a few keywords related to that topic. Writesonic will then use these keywords to generate content.
Once the content is generated, you can then edit it and make any changes you want. You can also add images, videos, and other media to the content. Once you're satisfied with the content, you can then publish it. Voila'!
WriteSonic Alternative
Content at scale is an AI writing tool for long form material which is particularly effective at producing educational content. It is quite unique as it generates content from only one input, such as a theme or keyword. The first platform of its kind for artificial intelligence, it enables users to publish large volumes of content that is fully optimized, of the highest caliber, and easily adapted for AI detection tools.
Jasper AI
With Jasper AI, you get accurately written, 100% unique content that doesn't raise any plagiarism red flags. Jasper AI is one of the best AI-writing assistant that helps create ad copy faster and other frameworks with your intervention along the creation process making use of templates for particular categories.
Geeks Marketing Review Of Writesonic
Writesonic is a powerful AI-powered content generation that can help you quickly create high-quality content. It uses advanced artificial intelligence (AI) to produce content quickly and accurately. The AI-driven technology allows you to create content that is unique, engaging, and optimized for search engine optimization (SEO).
Whether you're a professional content creator or a beginner, Writesonic can help you create content quickly and easily. It has a number of features that make it an excellent content generation tool, including AI-driven technology, multi-language support, customizable content, and more.
Writesonic is a very powerful AI writing tool. It provides a wide range of innovative features and tools, making it easier for content creators to create content quickly and efficiently. However, there are some drawbacks. The editor is only available for the AI article writer template and the AI-generated content can be too creative and vague for some use cases, requiring human intervention.
AI content writing is still in it's infancy stage and there are areas for optimisation. Although we are not yet at a stage where AI content writing can fully replace human input, the output that is produced by Writesonic is excellent in automating most if not all of your content writing. With the ability to scale up your content business rapidly and effectively, it might be time to look for those resignation letter templates as your dream to work for yourself has been turbo charged!