What is Synthesia IO?
Picture a world of possibilities where you can create ai videos without cameras, film crews, or studios; a world where you can craft captivating and professional AI videos. Synthesia is a video creation platform that brings these possibilities to life with its cutting-edge video editing capabilities, empowering users to unleash their creativity.
Synthesia IO is an advanced Artificial Intelligence Video Production System (AI Video generator) offering an intuitive and easy-to-use tool to create high-quality, digital films without the need for expensive studio equipment.
AI videos rendered with Synthesia IO feature human like avatars that resemble humans with synchronized lip movement to match the text you insert as a script.
In this Synthesia IO review we will go through the ground-breaking technology of AI video generators and how they can be harnessed in many ways to elevate your digital content marketing strategy. One area of use for Synthesia is the crafting of engaging AI videos for marketing. The following are some uses-cases for the video content created by Synthesia.
· Explainer videos;
· Social media videos for advertising;
· Instructional/how-to videos;
· Training videos;
· Video testimonials;
· High-quality marketing videos;
Table of Contents
1. How to Add Video Marketing In Your Strategy
The relevance of video creation for marketing purposes is well-known. By looking at some statistics, it is clear that all major companies create marketing videos as part of their core marketing campaigns.
For example, using Youtube to launch a video campaign renders much better results as opposed to launching a marketing campaign with no video on a saturated search engine such as google. There is a higher probability that your video will show on top of the results. Therefore video marketing can be highly effective as opposed to other campaigns if launched on the right platform.
The use of video in marketing is becoming increasingly popular across startups and small businesses as this content enhances their ability to reach and interact with clients more effectively.
In a survey conducted by Renderforest, it was shown that videos increased:
·Brand awareness by 70%;
·Generated 51% more traffic;
·Increased sales by 34%;
Video content has become one of the main marketing channels to successfully attract, convert, and retain new clients. However, such an effective type of content brings about limitations in that not everyone is comfortable to show their face, speak in front of a camera and sharing this content across a social media channel with 1000s of people across the globe.
Whilst larger business can afford hiring actors (which could easily cost between $500-$3000 per video and more), smaller businesses tend to rely on their own interaction with customers. In reality, not every business owner is a born actor or influencer.
Without the existence of Synthesia IO, this would have been a block for start-ups to generate video content. Read on to learn how Synthesia IO can help smaller businesses create videos.
2. How Easy Is It To Create Video with Synthesia IO?
For those unfamiliar with AI, crafting stunning videos with AI might originally seem complex and out-of-reach. In reality, Synthesia simplifies video creation, enabling you to create professional videos within minutes.
Synthesia is easily accessible and requires no prior experience in creating and editing high quality videos. The software has earned a reputation for delivering quick and efficient AI videos for countless users. Uploading your valuable customized scripts into the system is a breeze.
As a first step you should create an account with Synthesia IO. Once you are done, your next step is to choose the AI Avatar/s for your video. An Avatar is a digital human that will appear in your marketing video. Therefore, you should choose the Avatar that best suits your product, audience and most importantly your brand.
The selection of Avatars is vast, encompassing individuals from all over the world, representing different races and styles of appearance. Plan your video and decide how many avatars you want to engage in your content. Is it one avatar or five? You decide.
Upon selecting your avatar, you may either:
· Click on 'Import PowerPoint' button to bring your PowerPoint directly into the studio;
· Choose to start from scratch, modifying the elements and the script box.
If you want something simple yet professional-looking, you can browse the free video template list and layouts and be inspired, especially if you know already what type of video you want to create. Templates show you how to frame your avatar, how much text to put in each slide or even give you animation ideas.
3. Synthesia IO Studio – How to Customize Your Video
Once you click on the create button you are immediately redirected to Synthesia studio which will give you all the functionalities you need including the following:
Setting backgrounds: These are important for setting the scene for your video. You can select a colour, choose a stock image or even a stock video to play behind your avatar.
Script boxes: This is where you instruct your avatar what to say and change your avatar's tone of voice. You can provide your script in up to 60 languages, which makes it perfect for websites or marketeers with audiences in different countries as you can easily create the same video in a few minutes for different audiences.
Slide Navigator: This will allow you to control the flow of the video.
The Canvas: This is where you will be able see how your video looks including all the elements added.
Pro Tip: If you want a jump start in creating original and captivating scripts for your videos, you should look into using other AI tools such as chat GPT (GPT 4) for ideas. Generative AI software such as GPT 4 can create a full script for you in a few seconds.
We have outlined the main features of Synthesia studio. In reality you can do so much more (e.g. adding background music to your video, shapes text etc.).
The last step would be to share your video and here you have a few options as follows:
Get a shareable link to share with anyone;
Get an iframe code to embed in your website;
Download as an MP4;
Publish your video on platforms, such as YouTube, Twitter, and Facebook.
Enhance Your Video's Appearance and Atmosphere
Synthesia offers countless choices for you to refine and personalize your video before sharing it with your audience. With the vast range of intuitive tools available you can craft a masterpiece that truly reflects your vision. Before publishing you can do the following:
Select custom backgrounds and position your avatar or fine-tune the font size and color. You have the power to create a video that showcases your unique style.
You have the freedom to create an audio-only video, known as a "voice-only" video. This is perfect for those who wish to focus on the message without an avatar.
Loop the background video and synch it with your script to captivate the attention of your audience.
Speed up or slow down specific parts of the video as needed, giving you full control over the pace of your content.
With features like crop and trim, you can create the perfect video footage that leaves a lasting impression.
Let Your Video Sing – Tune Your Video Audio
When it comes to video audio, adding music or sound effects can breathe life into your content and make it truly unforgettable. Choose from a vast library of music to resonate with your audience and keep them engaged from to the very last second of your video.
For an extra personal touch upload your own tunes and let your video sing the melody of your heart. To help you navigate these options, Synthesia offers tutorials that empower you to create advanced videos with ease and confidence.
4. Synthesia Academy – How to Become An Expert Video Editor
Synthesia Academy offers free content on advanced video editing skills, such as looping videos backgrounds which might take a bit longer to learn. The Synthesia Academy is a great source of knowledge and includes:
Tutorials;
Beginner Courses;
Trending Lessons;
Recorded Webinars;
5. Synthesia Integrations – How to Use Synthesia with Powerpoint and More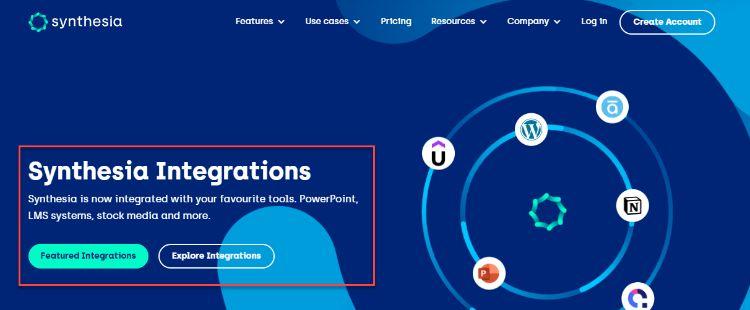 Synthesia AI integrates seamlessly with a number of platforms, including Medium, Intercom, PowerPoint, and free media platforms such as Unsplash and Pexels. The different types of integrations available are categorized on the side, depending on the purpose for using Synthesia.
For example, our main focus is marketing, so when choosing the marketing category, we were prompted with some of our favorite marketing platforms that we use, such as Medium and YouTube.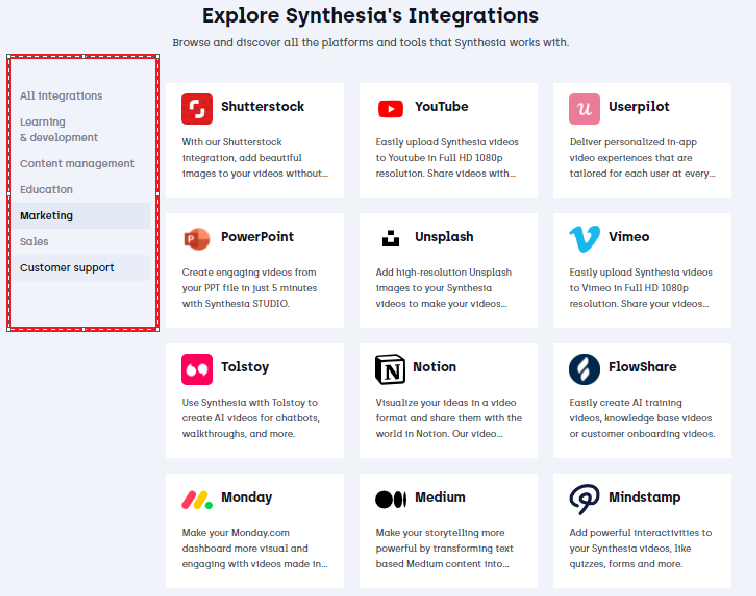 We are big fans of Medium, as posting our same blog content on this platform allows us to reach a larger audience. Now that Synthesia is integrated with Medium, we can easily submit the URL of any Synthesia Video on Medium and it automatically works on the third-party platform.
As you can see, these third-party integrations allow you to embed Synthesia into your daily routine with just a few clicks.
API for Techies and non-Techies available
Synthesia Studio automatically recognizes and enables developers to use their API for customizing videos, turning dreams into reality.
Developers can effortlessly generate customized videos in bulk, paving the way for innovative applications and websites. This API expands the horizons for video content production and brings new ideas to life.
Non-technical users need not worry though, as the API can be accessed through Zapier. By connecting customer data and using Synthesia Studio, you can create personalized videos without any coding skills.
6. Who is Synthesia IO Created for?
These are just few of the use cases that Synthesia can be used for. In reality the use cases for video generators are endless as video content is suitable for any type of business in their strategy to attract an audience. Synthesia's video generator software is targeting:
Course Creators: With its easy-to-use video creator and avatar creator, one can quickly create customized and engaging classes for students.
Youtubers: If you are a YouTuber looking for a way to create professional-looking videos that stand out, Synthesia IO is a great tool for you. It allows users to easily add animations, background music, text, and images to make their videos more eye-catching.
Bloggers: Synthesia IO can quickly help create professional-looking video content to embed in your posts. This way you'll have the right content for all type of audience (both readers and watchers).
Real Estate Companies: You can create breath-taking virtual tours that immerse potential buyers in their dream homes, connecting them emotionally to each property and revolutionizing the way real estate agents showcase listings
Freelancers: Working from home individuals need to find a ways to stand out, creating eye-catching videos to attract more clients.
Local Businesses: Synthesia IO provides local businesses with an indispensable tool for crafting heartfelt and engaging promotional videos, showcasing their unique offerings and fostering a genuine connection with their community. This ultimately drives more foot traffic and overall business growth.
Online Stores: For those starting an ecommerce business and running an online store, Synthesia IO creates short and engaging videos that attractively showcase their products.
SaaS Businesses: Synthesia IO can significantly improve the way SaaS businesses present their products and services.
Digital Product Creators: Synthesia IO enables digital product creators to transform their ideas into visually captivating video presentations, helping them to effectively communicate their product's value and reach a wider audience.
AI Marketing Agencies: AI Marketing agencies use AI tools to enhance marketing strategies of their clients. Using AI video generators such as Synthesia with targeted video content for their clients, marketing agencies enhance marketing strategies and boost audience engagement. Ultimately this helps achieve better results and success for their clients.
7. How to Make Money With Synthesia IO
Apart from creating videos for business or private use, there are also opportunities to earn money with Synthesia. For starters, "real human-made video" is typically priced at a couple of thousand dollars.
Since no cameras, microphones or recording gear are necessary, it is possible with synthesia to charge much less for video content, but you can still get a few hundred dollars for the recording and reselling of a footage. The amount of video production using AI is dependent in part on the length and the work needed before uploading the script.
With Synthesia IO, the potential for financial gain is virtually limitless. If you are good with sales, you can upsell your customers video services, which would boost your conversion rate and bring in more revenue. You can use this tool to generate money in many different ways. Start earning money by utilising this tool in creative ways.
8. Synthesia Updates
With Synthesia IO you are not buying a static software. Synthesia are constantly upgrading their product offering and latest technologies. Every week they post an update. Hereunder, you can find a quick overview of the updates generated over the last few months:

– Video embeds;
– Improved text editor;
– Color picker;
– Closed captions;
– Shutterstock integration;
– 10+ new avatars;
– 18 new learning templates;
– 130 new voices;
– Download captions as .srt files;
– Replace avatars on all slides;
– Updated shapes;
9. Pros and Cons of Synthesia IO: Weighing the Options
Pros
Synthesia AI capabilities make it easy for experts and beginners in marketing to effortlessly create visually appealing video projects.
All of their features (even the simplest designs) can be transformed into personalized masterpieces with little effort.
The platform is extremely useful for short promos, teasers, and corporate videos.
Cons
The Personal plan restricts the number of videos you can create [10 max per month].
No Free Trial Available.
With the power of AI, Synthesia can create professional looking videos. Nevertheless, the quality may not reach the level of video content crafted by professional and expensive production teams.
10. What are the Pricing Plans of Synthesia?
Synthesia video maker keeps it simple in terms of pricing plans. They offer both personal and corporate plans. The personal plan suits small businesses and freelancers giving users 10 videos creations per month.
The corporate plan is then suitable for mass production of videos. They also offer the option to build your own avatar at a price of $1000. If you want to deepfake your way to fame, you can pay a one-time fee of $1,000 for an avatar that looks just like you.
The pricing plans are as follows:
Personal: $30/month
Corporate: Contact Synthesia for a competitive price
Build Your Own Custom Avatar: $1,000 (one-time fee)
11. What are the Synthesia IO Alternatives?
There are a lot of AI video generators on the market that provide video templates to make video presentations. Although most of them provide a good offering, our Geeksters refer to the ones that are comparable to the quality of Synthesia and within the same budget. It is encouraged that you try more than one platform and pick what meets your demands.
Colossyan Creator (Starting from $24/monthly)
Colossyan stands out as one of the most noteworthy contenders to Synthesia IO. Both platforms offer competitive pricing, the ability to generate human avatar-like videos and text-to-video features that are key to user-friendly video generation.
Nevertheless, there are notable differences that set both brands apart. Colossyan distinguishes itself with its simplistic and intuitive interface, unique functionalities like multi-avatar screens, and advanced analytics. These features cater towards a modern and streamlined approach to video creation. Synthesia's rich history though has allowed it to accumulate an expansive library of media resources that include a wider variety of templates and avatars.
Choosing between Synthesia IO and Colossyan ultimately depends on your specific priorities. You should make a choice between a more seasoned and resource-rich platform like Synthesia IO or Colossyan's more innovative and user-focused experience.
For a head-to-head comparison between Colossyan and Synthesia have a look at Colossyan vs Synthesia to better understand the key differences.
Pictory AI (Starting from $19/monthly)
Pictory is definitely one of the main competitors of Synthesia.
Pictory AI stands as a contender to Synthesia IO. This platform takes a slightly different approach, transforming long-form content such as articles or whitepapers into captivating videos. Simply input the URL, and Pictory AI will extract highlights to create a stunning visual summary."
Overall, Pictory AI is a solid software. However, when reviewing this product, we noticed that some of the voice-overs sound too robotic and fake. When compared to Synthesia IO, customization with Pictory AI tends to be limited, giving you less options and room for creativity.
Awarded no.1 most innovative AI solution in 2022 (starting at $15 month) – Similar to Pictory AI, you can use Steve AI to change content into video. They also have the functionality to change your voice into a video or your tweet into a video. The platform provides you with 100million + images to use in your campaigns.
12. Synthesia IO Review Conclusion
In this Synthesia IO review we've showed you that this AI video creation software is the perfect companion for your venture, be it a start-up looking to create captivating video content or a larger business looking to scale up video content for their business. There are too many use cases to list here (e.g. training programs, video marketing campaigns).
The personal plan of Synthesia IO is reasonably priced and provides credits to get your hands on this innovative software and create video content.
As AI technology continues to progress video generator technology will follow-suit. Synthesia's ongoing updates to their software reflect their commitment in this field to offer the most innovative technology to their customers at a competitive price. With Synthesia IO, you know that you are getting access to the latest tech in the field of video generators.
Get creative. Build video from scratch with Synthesia IO.